Commercial real estate facing bleak future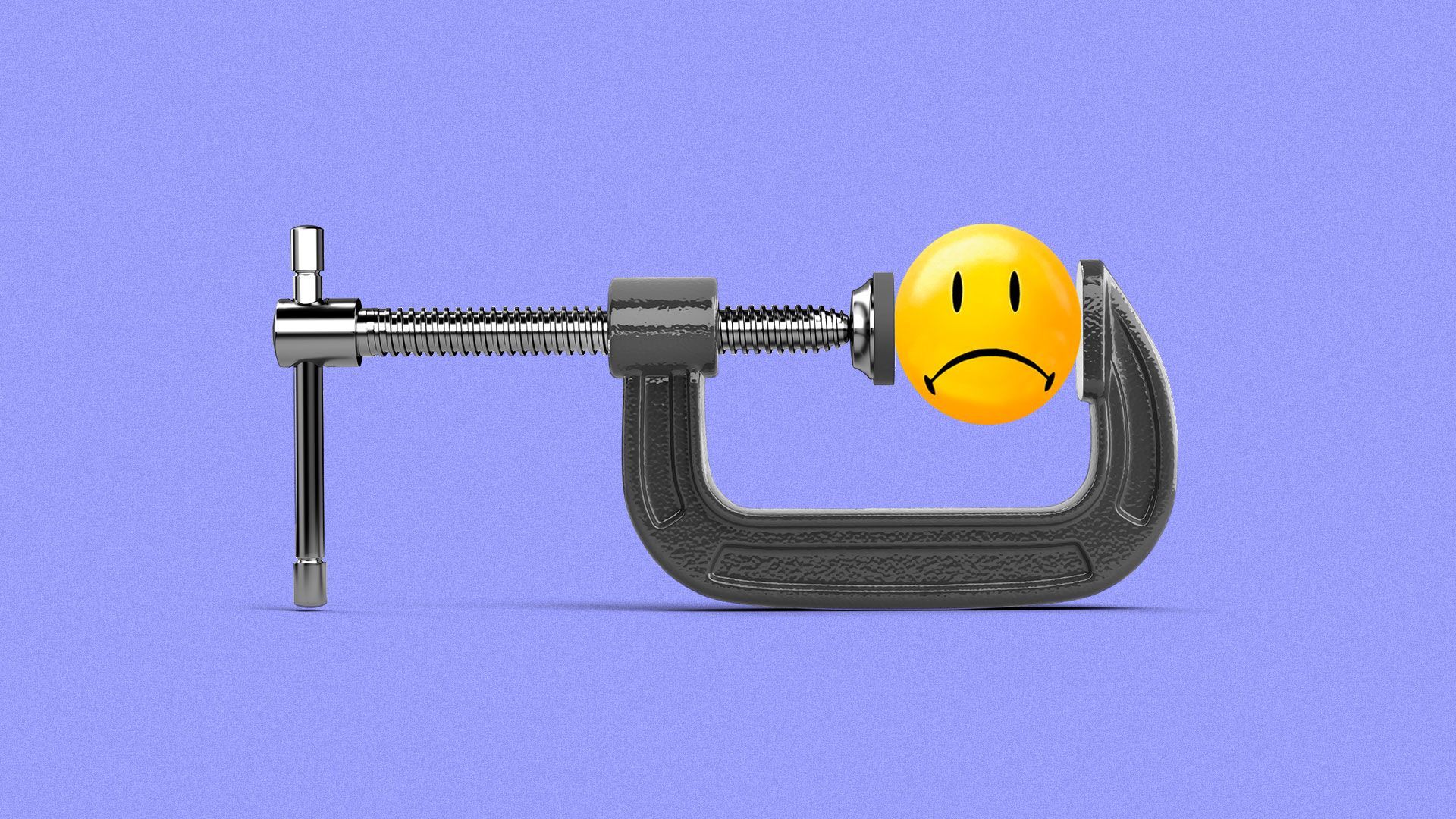 Illustration: Aïda Amer/Axios
Higher interest rates and a loss of confidence in the banking sector have hit commercial real estate especially hard, with both the housing and office sectors poised to feel the chill.
Why it matters: The jury's still out on how much further the Federal Reserve's tightening campaign has to go, but the crisis cascading across the banking sector is already constricting lending.
Details: This is especially being felt in a commercial sector under pressure from soaring borrowing costs and an "office apocalypse."
Around $270 billion in commercial real estate debt held by banks will expire this year, Yahoo Finance reported last week; overall, at least 70% is held by small and mid-sized banks, as Axios Markets' Emily Peck recently noted.
Driving the news: With credit markets tightening amidst the fallout from Silicon Valley Bank, financing for big projects faces a grim near-term future. According to MSCI data, there were already fewer lenders originating new commercial loans even before the upheaval of the last few weeks.
"Across all property sectors, there were 7% fewer unique lenders active in the market in the fourth quarter of 2022 than in the final quarter of 2021," MSCI noted recently.
Some sectors showed a sharper decline: The size of the lender pool for apartment and industrial fell at double-digit rates," the firm said, noting that recently shuttered Signature Bank was the second-largest lender for NYC apartment buildings last year.
Zoom out: The post-COVID remote work boom has depressed office rents and occupancy rates, stoking concerns about the long-term survival of retail and commercial properties.
Traffic into the office appears to have hit a near-term ceiling at 50%, DataTrek notes. "This is not good news for urban commercial real estate," co-founder Nicholas Colas wrote on Wednesday. "As we start getting into summer vacation season, office occupancy could well go back to the 40 percent level and stay there for months."
The crisis in smaller and mid-sized banks — the lifeblood of commercial lending — is adding to the sector's palpable angst, and lowering expectations for growth, Axios Macro's Courtenay Brown writes.
Meanwhile, it's not just offices at stake. A lending freeze is certain to impact the construction of badly needed apartment units, as scarce supply helps buttress nationwide rent prices, a key source of consumer inflation.
RentCafe found that "overall housing supply can't keep up with demand," especially with over 60% of apartment-dwellers renewing their leases and affordable units tougher to find.
"I do think you will see banks pull back on commercial real estate commitments more rapidly in a world [where] they're more focused on liquidity," Richard Ramsden, business unit leader of the financials group at Goldman Sachs, said recently.
What they're saying: "The capital markets have been essentially frozen for months now and lending is already disappearing," Patrick Carroll, CEO and founder of $8 billion real estate company Carroll, tells Axios. He likened the Fed's recent rate hike to "rubbing salt in the wound" of the industry.
"I haven't seen anything like this since 2008/2009 and in my opinion this may be worse, and nobody seems to know what is happening next. When there's no clear direction for valuations, it creates instability for everyone participating in the market," he said.
The bottom line: The seeds of the current era were sown during the era of ultra-low interest rates. Now, the chickens are coming home to roost, as banks and commercial lending suffer the consequences.
"This episode highlights the Hotel California nature of quantitative easing – 'you can check out any time you like, but you can never leave,'" Jason DeSena Trennert, chair and CEO of research firm Strategas, in a note earlier this month.
"Unfortunately, this has led the central bank to fill alternative roles as pyromaniac and firefighter."
Source: Read Full Article